Return after using 2 years… Smartphone rental market to open

Jong Ye- Lin | yeslin@ | 2018-06-01 15:24:13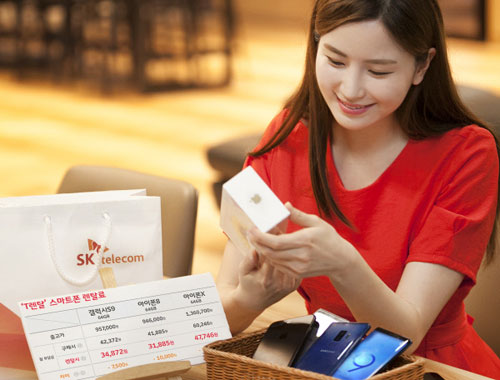 by SK Telecom
'SK Telecom is expected to launch a smartphone rental service to transform the mobile communication market. The intention is to expand the user`s choice by expanding the concept of `use` to the existing mobile phone, which had only the concept of `ownership`. The usage fee is also cheaper than monthly installments, so the burden on users is expected to be partially lowered.
Meanwhile, SK Telecom revealed that it will start `T-rental` service from May 31. The service is a system that borrows a smartphone for a monthly fee and returns it after 24 months. Users may own residual value before expiration.
SK Telecom is planned to showcase Samsung`s Galaxy S9, which is a premium smartphone, and Apple`s iPhone 8 and iPhone 3, and plans to expand its products in the future. The monthly rental fee is △ the Galaxy S9 64GB 34,872 won, the iPhone 8 64GB 31,085 won, and the iPhone X 64GB 47,746 won. It is less than 7500 won, 10,000 won, 12,500 won more than monthly installment when it is purchased by installment. Rental fees and residual value are calculated by MKIF. The existing Galaxy Club and iPhone Club will be returned after 12 months and 18 months, but in addition to the payment, the rental fee will only be paid for the rental fee.
Users also can choose your plan. You can sign up for the subsidy, optional contract discounts, and no plans. Online Mall You can join at T World Direct 11th Street. Expansion into offline stores will be reviewed. The returned smartphone will be handled by Macquarie after it has been repaired and refurbished.
Meanwhile, SK Telecom aims to offer users a variety of options through this service. According to a SK Telecom official, "We thought that demand for rental would be high considering that 70% of high-priced smartphone users have replaced their products more frequently than mid- to low-end smartphone users and have not used used phones." According to a survey by SK Telecom, users of high-end smartphones were replaced 24 to 25 months, while users of low-end smartphones were replaced 24 to 25 months.
In fact, the concept of rental phones has already been activated overseas. According to the industry, 30% and 20% of Australian Telstra and T-Mobile users currently use rental services, respectively, using rental phones. In fact, Macquarie offered to rent a car to SK Telecom based on its success in Australia.
On the other hand, SK Telecom is aiming to differentiate its services as a rental service while mobile carriers have begun a war on data rates. KT and LG U Plus are not expected to introduce rental phones for some time.
On the same day, SK Telecom also introduced `T All Care`, a lost and damaged insurance service. Depending on the type, it can be used for 5400 ~ 8200 won.
SK Telecom Co., Ltd. (CEO) said, "SK Telecom will provide smart phone rental and care services to provide special experiences for SK Telecom users, even if they are made by the same manufacturer," stated Seo Seong-won.
By Jong Ye- Lin yeslin@
[ copyright ⓒ The Digitaltimes ]