"Advantage of technical skills and premium strategy"… Korea to surpass Chinese TV completely

Kim Eun | silverkim@ | 2018-05-31 11:18:56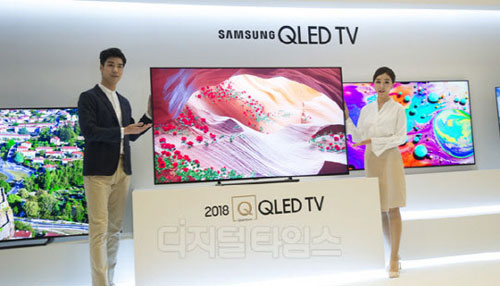 China followed the display and smartphone market with a 10% share of the TV market in Korea. However, the market share gap again rose to 25% thanks to the advanced technology and premium strategy of Korean TV makers.
The Korean TV manufacturing industry has been hit by the low price of the Chinese market as the TV manufacturing technology such as LCD display and UHD picture quality have been upgraded. But, the success of Quantum dot and Organic Light Emitting Diode (OLED) and other advanced display technologies and high-priced premium brands has been shattering China Phobia.
According to market researcher IHS Markit on May 30, Korea accounted for 46.5% of the world TV market share in the first quarter of this year (below sales), followed by China (21.5%) and Japan (17.7%).
Korea and China accounted for 41.8% and 31.2% in the first quarter of 2016, two years ago, respectively, of which the difference was only 10.6% points. However, the gap widened to 25.0% in the first quarter of this year.
Samsung Electronics ranked first with 28.6%, followed by LG Electronics and Japan Sony with 17.9% and 9.1%, respectively followed by China`s TCL with 5.8% and Hyensense with 5.3%. The market share of the top three companies rose by one to three percent over the same period last year, but China TCL (5.8 percent) and Hisense (5.3 %), which are in fourth and fifth place, have declined.
Samsung Electronics and LG Electronics led the world TV market with 60-inch and over-sized QLED and OLED premium TV products.
Meanwhile, Chinese TV makers are shrinking shipment volume in the giant Chinese domestic market, but most of them are low-priced products, so the gap with leading companies is expected to continue in terms of sales and profitability. In fact, Samsung Electronics, LG Electronics and Sony accounted for a total of 74.1% of the high-end TV market in the 65-inch and over in the first quarter. Also, in the premium TV market with more than $ 2,500 per unit, the top three companies account for a whopping 90.0%. In the TV market of more than $ 2500 per unit, Samsung Electronics ranked first with 43.3% in the first quarter of last year, but only 11.0% of LG Electronics (40.8%) and Sony (34.4%).
An industry expert said, "China is topping the display shipments, investing more than 200 trillion won in semiconductors, exposing smartphones and drones, and threatening the industry where Korea has dominated the global market. If Korea is ahead of the technology by advanced research and development and competing with high-quality premium products like TV case, Korea`s manufacturing industry will still be highly likely to succeed in the world market. "
By Kim Eun silverkim@
[ copyright ⓒ The Digitaltimes ]