US and North Korea to hint on overall negotiation, End of denuclearization

Park Mee Yeong | mypark@ | 2018-05-30 10:01:38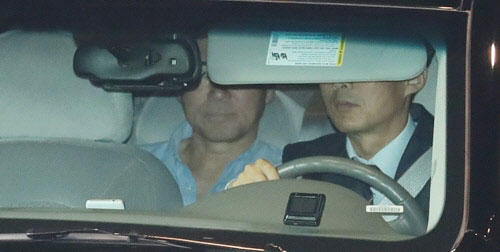 Practical Talks for the North American Summit Meeting a car carrying a US ambassador to the United States delegation to the United States is coming out of a hotel in Jongno, Seoul, on May 29.
It is likely that the success or failure of the denuclearization talks will be disrupted by North Korea`s choice as the United States and North Korea continue to be in direct contact with each other.
The White House released a telephone conversation with President Trump and Japanese Prime Minister Shinzo Abe on May 28 (local time).
The two agreed on the call that "it is imperative to achieve complete and permanent dismantlement of North Korea`s nuclear, biological, and ballistic missile programs." It is analyzed as a statement to demand North Korea to make a final choice before the US-North Korea summit and prevailing favorable position in this negotiation.
Meanwhile, the United States, on the other hand, took preemptive measures such as postponing further sanctions against North Korea and showed its will to hold a successful summit.
"The Trump Administration has indefinitely postponed the announcement of an additional list of sanctions against North Korea that was due to be released on Tuesday," the Wall Street Journal reported. The sanctions, which were originally reviewed, include 36 cases involving Chinese and Russian companies.
Secretary of State Mike Pompeo attended the Senate Foreign Relations Committee on Wednesday, saying, "If a complete denuclearization is achieved, there will be a complete, verifiable and irrevocable system guarantee (CVIG) in the same way." I will submit it to the Senate as a treaty." This is in response to the request of Kim Jong-un, the North Korean state secretary, who wants to guarantee the system after the denuclearization, which is one step higher than the previous statement and consensus.
CNN stated, "The two sides are likely to agree on a basic document that contains the principles for future denuclearization negotiations."
Panmunjom, and Singapore, as well as discussing the denuclearization talks are scheduled for high-level US-North talks in New York.
US ambassador to the United States, including Sung Kim, the Philippine Ambassador, headed to Seoul from Panmunjom for a second round of negotiations. In Singapore, they also discussed separate discussions on the issue of the US-Japan summit talks and security issues. Kim Young-cheol, vice chairman of the Labor Party, who is in charge of the summit talks for the US-North Korea summit, arrived at Beijing`s Haidou Airport in Beijing on the same day. Vice Chairman Kim is scheduled to head to New York, USA on May 30 and is expected to meet with Pompeo.
Also, it is highly likely that the two parties will have a final draft of the agenda agreed at Panmunjeom and then receive the financial support from President Trump and Kim.
By Park Mee Yeong mypark@
[ copyright ⓒ The Digitaltimes ]