Unlimited roaming & charge per second… Data fee battle going on for mobile carriers

Jong Ye Lin | yeslin@ | 2018-05-29 10:35:56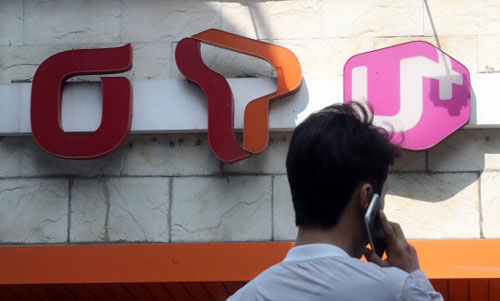 Photo by Yunhap news
The mobile carrier industry, which is under pressure from the government and civic groups, is making a breakthrough with the surging data. Especially with KT launching unlimited data plans, including LG U Plus` data rate plans, which are free of speed and capacity, carriers are expected to continue to struggle for a while.
LG U Plus, on May 28, revealed it will release the first roaming service in Korea with no limitation on the data supply and speed. The service will allow users to use mobile data for an unlimited number of days at a cost of KRW 13,200 (including VAT) in 37 countries including China, Japan and the United States. Especially, there is no restriction on the speed and capacity, and it is possible to conveniently use the tethering function that shares the data which is inconvenient to use overseas. Not only this. LG U Plus will increase the data rate of its easy-to-use data pack plan, which is a roaming service plan, by up to 30% from the 1st of next month.
The launch of LG U Plus` service is based on the fact that overseas users are mainly using data rather than voice and text. An official of LG U Plus said, "The usage of roaming data per user of LG U Plus last year increased by 28% from the previous year, but the voice call usage decreased by 23% during the same period."
The launch of the roaming service plan is already the second data-related discount for LG U Plus.
Meanwhile, LG U Plus has already launched an aggressive offensive since launching a data rate plan in February without worrying about speed and capacity. Especially, LG U Plus professional baseball, U + golf and other video services, such as offering differentiated services and unlimited data rates are increasing demand. LG U Plus said that users who subscribe to the plan are 9 times more likely than those who subscribe to the same high-priced fare in the fourth quarter of last year.
On the other hand, KT is also expected to participate in data competition following LG U Plus. In the industry, KT expects to offer an unlimited rate plan with unlimited speeds at the same price as LG U Plus during June. LG U Plus has launched a LG U Plus Pro baseball game and golf game for a limited time, and has been able to attract competitors from other companies.
SK Telecom, on the other hand, is unlikely to see an unlimited data rate that does not depend on speed. As SK Telecom has the largest number of subscribers, there is not enough network space. The frequency band per subscriber is also small. An SK Telecom representative stated, "Even if we do technical supplementation, there is a high risk of traffic surge."
While LG U Plus has launched a new roaming service plan, KT is expected to soon apply the per-second rate system to roaming plans. SK Telecom, which introduced the per-second billing system in March, plans to launch new services as it has introduced various regional-specific rate plans such as Asia Pass and Korea-China-Japan Pass.
KT and SK Telecom have also lowered their tariffs, which apply to roaming rates in October and March, respectively. Currently, SK Telecom is providing roaming data at KRW 563 per 1MB (KRW 0.275 per packet).
By Jong Ye Lin yeslin@
[ copyright ⓒ The Digitaltimes ]