Disturbing 'Cisco world'… Network solution industry to be in lead

Lee Gyung Tak | kt87@ | 2018-05-28 10:57:03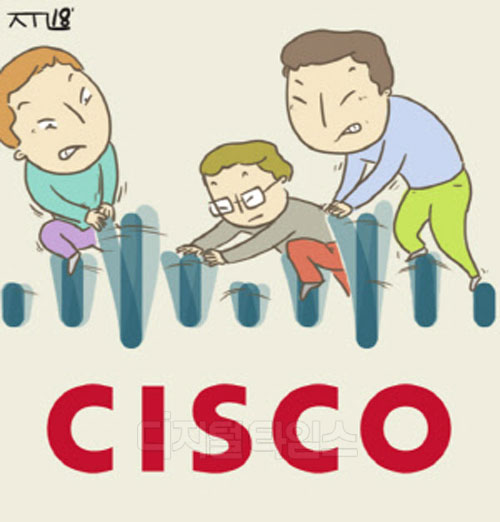 The network solution industry is doing its best to shake up the `Cisco`. Cisco is still a strong leader, with nearly 50 % percent market share in the router and switch markets, excluding telecommunications equipment. Competitors are putting their strengths in a collaborative ecosystem, open source, technology and price competitiveness as weapons to threaten Cisco.
Jeff Baudrand, Senior Director of EMC Networking Services Provider Solutions, said in a press conference at the NetVent Summit in San Jose, California, Monday, May 24, (local time) as the keywords of the open-source bustle of the old market has been inflated."
According to IDC and Synergy Research Group, major market players such as Juniper, HPE, Huawei and Nokia have a 4 to 10% share of the network equipment market, far less than Cisco. In particular, Dell EMC has traditionally been strong in the server and storage markets, but weak in networking equipment and weak in presence.
Meanwhile, "The network equipment market has been led by Cisco and Juniper, but Facebook, Alibaba and Tencent are developing proprietary systems that use open source for their data centers, In the wake of this era, Dell is expanding its position by working with its Linux-based open source network OS `OS 10` and its subsidiaries and partners. "
On the other hand, Dell EMC worked with Verizon to bring OS 10 to the Benz and Volkswagen `Telematics` platforms. "While SDN is all about enterprise, Dell EMC has the strength to offer a more granular network solution through a wider collaborative ecosystem than any of its competitors."
Juniper, with its strengths in open source-based solutions with Dell EMC, is considered a traditional strength with Cisco. The company says its adoption of the solution will enable it to build a network ecosystem optimized for multi-cloud environments without any technology dependencies. Especially recently, it is spurring cooperation with open-source software company RedHat in multi-cloud business. The two companies are strategically building synergies by tightly integrating their respective cloud platforms, the Red Hat open shift container platform, the Red Hat Open Stack platform and Juniper`s Contrail Enterprise multi-cloud.
App-store, founded in 2014, is the first company to develop an intent-based network (IBN) system. IBN is a next-generation network environment that uses AI (Artificial Intelligence) and machine learning to automatically detect user intention and protect itself from security threats.
The company is receiving full support from David Chelton, a billionaire and Stanford professor who helped launch Google. The CEO of Mamoru Karam App-star, who met on the same day, showed interest in Naver, a Korean dinosaur portal, and said, "App-star has made a full-fledged entry into the global market since last year and secured Yahoo! Japan as its client in Japan. I will be able to meet as soon as it does."
Huawei is rapidly expanding in the global market based on its domestic market. The company accounts for nearly half of its total overseas sales, especially in the Middle East and Africa markets. The company plans to invest $ 10 billion annually in R & D to boost quality and performance.
HPE acquired Aruba Networks in 2015 and grew up in the area of network equipment networking revenue grew 16 % year-over-year, exceeding storage revenue growth of 11 % in the third quarter of last year. Recently, we decided to acquire SDN specialist `Flexi` and are trying to raise brand awareness in the network solution market.
San Jose (US)= By Lee Gyung Tak kt87@
[ copyright ⓒ The Digitaltimes ]