"Taking advantage of the world cup"… Ultra-large, ultra HD TV competition to get fierce

Kim Eun | silverkim@ | 2018-05-17 10:50:38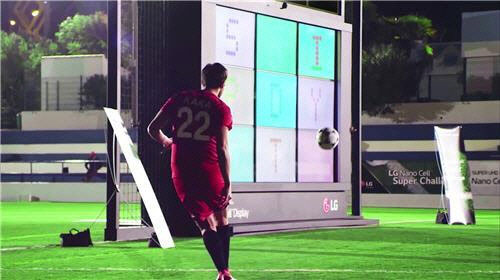 Brazilian soccer player Kaka is playing a shooting game in front of LG's Super Ultra HD TV. Photo by LG Electronics
The world TV makers such as Samsung Electronics and LG Electronics have started special catching of the World Cup around a month before the 2018 World Cup in Russia, which will be held on June 14.
According to market researcher IHS Markit on May 16, global TV sales this year are expected to reach 222.73 million units, up 4% from the previous year (215.17 million units), thanks to special sports events such as the World Cup and Asian games. In particular, Latin America and Europe, which enjoy soccer, are expected to increase their TV sales by 5% and 8%, respectively, over the previous year.
World TV sales have increased year by year in the world. In 2010, when the World Cup was held in South Africa, TV sales increased 18% over the previous year. In 2014, when the World Cup was held in Brazil, it increased 4% from the previous year. In the year of World Cup, global TV makers are on the verge of marketing and discounting to catch up with growing demand for TV.
Meanwhile, Samsung Electronics, number one in the global TV market, has doubled the number of ultra-large TVs over 75 inches this year. Last year, only 6 kinds of super-sized TV products were sold, but this year, QLED TV group, which is the best product, will release 4 kinds of 75-inch products and one kind of premium LCD TV. The 82-inch QLED TV products will be launched in June and in the world markets, including Korea and the US, in time for the opening of the World Cup. Especially, all TV products introduced this year will be equipped with artificial intelligence image quality enhancement software to provide the image quality suitable for the sports game.
LG Electronics, the No. 2 LG, is showing special features tailored to Latin American consumers enjoying soccer with ultra-thin, ultra-high-definition OLED TVs and Super Ultra HD TVs. LG Electronics is expected to introduce a new football application that allows users to view the game information, information on the players, team history, etc. on the TV screen in real time while watching the soccer game. The app will be available in 17 countries in Latin America, including Brazil and Mexico. In addition, the company will also showcase new products using `Football Mode`, which enhances green so that players can feel the grass on the soccer field vividly and realizes the realism of the game with surround effect.
On the other hand, China Hisense will become an official TV sponsor on behalf of Sony Japan in this Russia World Cup. Hisense has been rapidly growing its position in the world TV market, ranking first in China TV market share in the past 14 years and third in the world TV market. Sony Japan focuses on products that deliver the breathable sound of athletes and shots of a stadium by putting the technology "High Resolution Audio" that is secured by headphones and earphones on TV.
Besides, major TV manufacturers are expected to cut their new product prices by 20-30% in line with the World Cup season. Samsung Electronics released a 55-inch QLED TV (Q8) in Korea this month with a price of KRW 3.49 million, down 28% from the same model last year. LG Electronics lowered its 65-inch OLED TV prices by 33% from KRW 9,000,000 last year to KRW 600,000 this year.
By Kim Eun silverkim@
[ copyright ⓒ The Digitaltimes ]