First LTE in Africa goes for Rwanda…KT technology beyond Korea

Jong Ye Lin | yeslin@ | 2018-05-14 11:00:35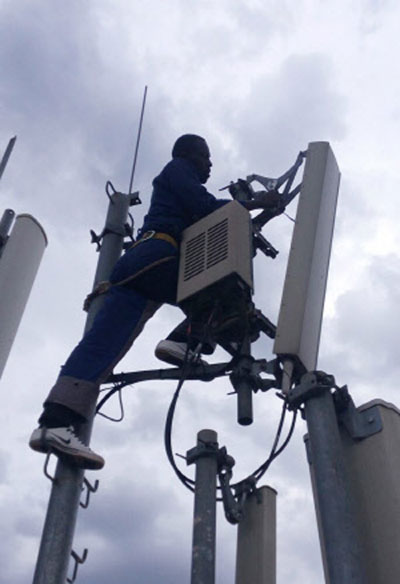 KT and the government of Rwanda joint venture KTRN staff are working on a national LTE network in Rwanda. Photo by Yunhap news
[Digital Times, Jong Ye-rin] Korea`s information and communication technology (ICT) is booming in developing countries. KT is playing a leading role in `ICT Korean Wave` such as establishing Africa`s first LTE (4th generation mobile communication) in Rwanda, a poor country in Central Africa.
KT revealed on May 7 (local time) that it has completed the construction of Rwanda`s LTE nationwide network at the Transform Africa Summit 2018, the largest ICT conference in Kigali, Rwanda.
The event was attended by Minister of Information and Communication Jean de Dure-Languir, Minister of Information and Communication of Rwanda, and Minister of Education, Science and Technology Innovation of Angola, Maria Dujaza Liu Brava.
KT has established a nationwide network in Rwanda only three years and six months after launching commercial services in Kigali, the capital city, in November 2014. Therefore, KT established a joint venture, KTRN (KT Rwanda Networks) in 2013 with the Rwandan government. This project is a result of close cooperation between overseas companies and local governments. It is regarded as an excellent example of civil cooperation business in Africa.
Rwanda has 8.6 million mobile subscribers out of a population of about 12 million. The number of smartphone subscribers is estimated at 1.15 million. The Rwandan government hopes to build a foothold for the fourth industrial revolution by building an LTE nationwide network. "The completion of the 4G LTE nationwide network is a result of close cooperation between the Rwandan government and KT," said Rang Ranjir, Minister of Information and Communication, Rwanda. "We are actively promoting the government to improve the quality of life of the people through full and we will support it."
Meanwhile, KT plans to expand cooperation with African nations such as Nigeria, South Africa, Malawi, Benin and Senegal based on business experience gained from Rwanda. Yoon Kyung-lim, vice president of KT Global Business Promotion Department, said, "The completion of the Rwanda LTE nationwide network means that it will lead to the implementation of smart Rwanda and the fourth industrial revolution." KT has been successful in Rwanda. And we will definitely expand business cooperation."
On the other hand, KT held the first anniversary of `Giga Island` in Moheshkhalli island, Bangladesh on May 10. The island is one of the `Giga Story` projects that KT has been pursuing since October 2014 to resolve the digital divide between books and mountains. It has been established in five places, including Imjado, Sinan County, Chonnam, and Taeseong-dong, Paju, Gyeonggi-do. In the case of overseas, it was made for the first time at the end of April last year on the Moheshkhalli island.
Moheshkhalli island is not easy to access the internet before building Giga Island. The Internet speed was only 0.2Mbps. KT increased this to 100Mbps through the Giga Island business. In addition, an average of 100 residents and tourists visit the `IT Space`, a town hall where public Wi-Fi is built, using wireless Internet. The Bangladesh Ministry of Welfare operates a three-month computer classroom there.
By Jong Ye Lin yeslin@
[ copyright ⓒ The Digitaltimes ]