Financial sector to secure big data & AI talents, Digital University to be created

Kim Min Soo | minsu@ | 2018-04-25 09:54:00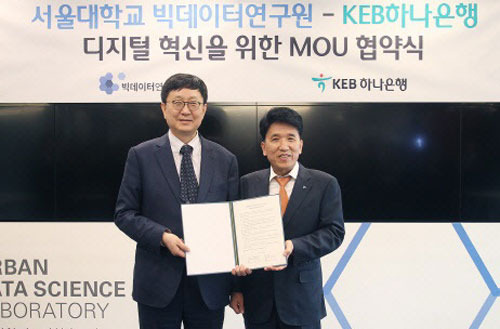 Hahm Young-joo, head of KEB Han Bank (right) and Mr. Sang-gyun Cha, director of the Big Data Research Center at Seoul National University, have taken a commemorative photo after signing a comprehensive business agreement for digital innovation. by KEB Hana Bank
Financial institutions are preparing their own curriculum or collaborating with educational institutions to expand their expertise in digital finance in order to cope with the rapidly growing digital environment.
According to the financial system on April 24, Hana Card recently launched "Hana Card Digital University (HDU)".
A digital education program was created to directly train employees in the company as digital professionals.
HDU is a program based on the judgment of Chung Sang-jin Han Card that it is necessary to support employees` participation and spread digital culture in order to turn into a financial company with digital competitiveness and big data experts and digital business courses. Each course has its own curriculum for beginner, intermediate, and advanced levels.
Hana Card will select the best employees among the employees who have completed the advanced level and proceed to the specialization process. Through this, we plan to cultivate talented people with enough competence to compete with global leading financial companies.
Hana Card first selected a total of 80 employees and opened the HDU entrance ceremony on the 20th and is in training for three months.
There are also more financial firms that collaborate with universities and train digital financial talents. KEB Hana Bank has concluded agreements with the Big Data Research Center of Seoul National University and is conducting training on technology related to the 4th Industrial Revolution for executives and others. It is a ploy that we will step up as a digital bank by cultivating digital innovation capabilities for executives. Hana Bank executives learn about digital data technologies such as Big Data, Deep Learning, Artificial Intelligence (AI), and Block Chain.
DGB Daegu Bank is fostering digital talents through collaborations with local universities through the Digital Information Technology (IT) Research and Development (R & D) Center. The goal is to share the achievements of locating and fostering excellent digital talent in the region through such linked projects. Last month, we organized 36 consecutive projects for local university students to participate in projects that can be applied to the fields of financial IT and pin-tec. In particular, through this project, various ideas such as savings by using block chain, online and offline connection (O2O) service combining life and finance, simple settlement for traditional market and street vendors, customer service using big data and artificial intelligence done. The selected teams will run the proposed project by the end of October. Daegu Bank selects the best team according to the results of the implementation, provides the listing of the bank president and offers the benefit of the prize, and provides benefits for the recruitment.
IBK Industrial Bank of Korea is also pursuing the training of digital finance talent with Sogang University last year. IBK dispatches employees to the IBK Digital Finance Course at Sogang University School of Management to educate FinTech, crowdfunding, and big data.
An official from the financial sector stated, "In the financial sector, we are investing and supporting the development of digital talents that can make good use of digital technologies such as big data and artificial intelligence."
By Kim Min Soo minsu@
[ copyright ⓒ The Digitaltimes ]