Samsung SDI to supply a battery to Daimler electronic bus

Park Jung Il | comja77@ | 2018-04-17 09:54:21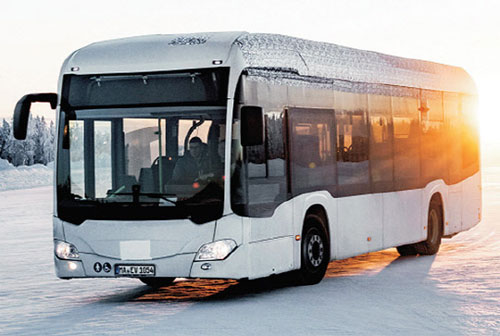 Daimler subsidiary of Samsung SDI's Li-ion battery. Source: www.akasol.com
Samsung SDI has been supplying batteries to Daimler Electric Buses, and has been receiving battery orders from overseas for this year. Samsung SDI, which started to recover after the first quarter, has converted its business mode to `attack` by securing KRW 559.9 billion in cash through the sale of its stake in Samsung C & T and recruiting a large-scale career team.
According to industry sources on April 16, Samsung SDI recently agreed with Akasol, a manufacturer of battery systems in Germany, to supply the battery system to the Citro, a new electric bus of EVO bus, a Daimler group subsidiary. Samsung SDI supplies battery cells to Akasol, and Akasol assembles them into packs and mounts them on the cytaro.
The electric bus has a total of 243 kWh battery packs, which is equivalent to four high-performance electric cars. According to international consulting firm PricewaterhouseCoopers (PwC), electric buses currently operating in Germany are about 200 out of about 20,000 electric vehicles. However, PwC predicted that more than 200 cars will be sold this year, as major cities in Germany, including Hamburg, are planning to replace all buses with electric buses by 2020.
A representative of Samsung SDI said, "We cannot disclose the size of the contract because of the relationship with the customer." Akasol is capable of producing 300 MW of battery packs annually.
Samsung SDI has been winning overseas orders and cooperation successively. Jaydeu Bus plans to launch a battery-powered electric bus at Samsung SDI later this year, and German auto parts maker webasto decided to co-develop high-voltage battery for electric commercial vehicle with Samsung SDI. The annual sales of Bebaso is about 4,200 billion won as of 2016.
Samsung SDI plans to aggressively expand its battery business this year, which secured cash by selling its stake in Samsung C & T. Samsung SDI, which struggled until 1Q last year due to Samsung Galaxy Note 7 discontinuance and business restructuring, succeeded in turning profitable from 2Q last year. The securities industry expects Samsung SDI to earn more than 400 billion won in operating profit this year.
According to market researcher SNE Research, global battery market share of the passenger cars for the year was 9.2%, which was 1.3% higher than last year`s 7.9%, based on Samsung SDI shipments as of the end of February.
Meanwhile, Samsung SDI is currently working on a career bond in the first half of the year, and plans to hire dozens of additional employees, mainly technology development personnel. As of the end of last year, the number of employees at headquarters was 9,334, up 219 a year.
By Park Jung Il comja77@
[ copyright ⓒ The Digitaltimes ]