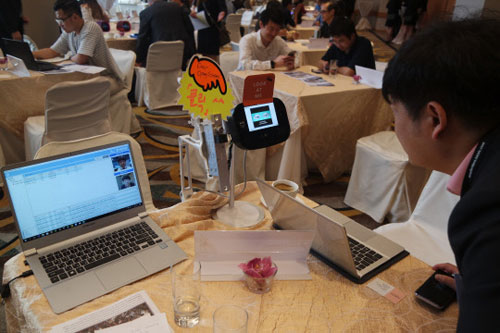 From April 13 to 16th, during the press-pitching time of the Hong Kong Spring Electronic Expo held at Wan Chai Convention Exhibition Center in Hong Kong, Shin Hyung-sup, the platform representative of Iris, is demonstrating the iris authentication solution
Korean small and medium-sized venture companies boasted their technology at the Hong Kong Spring Electronic Expo • International Information & Telecommunication Technology Expo held from April 13 to 16th and knocked on the global market.
More than 3,500 companies from more than 20 countries have participated in exhibitions of new IT technologies and devices such as wearable, virtual reality (VR), augmented reality (AR), robotics, autonomous navigation, smart city and internet of Things (IoT). Also showcased the latest technology at competitive prices.
In this year`s event held at the Wanchai Convention and Exhibition Center in Hong Kong, five organizations, including the Korea Information Technology Research Institute (KITRI), and 48 domestic small and medium-sized venture companies have held heated publicity for multinational visitors. Most of the participating domestic companies were manufacturers.
Domestic business people gathered and said, "The electronics exhibition is an exhibition that many foreign buyers are looking for," he said.
These companies have exhibited a variety of products including Bluetooth peripheral, mobile peripherals, induction, wireless massager, air cleaner, steam cleaner and so on. It succeeded in attracting buyers` attention through design differentiation, practical upgrades, smart functions, and so on, which are commonly used in everyday life.
Choi Min-joon, director of Lifescience Technology, who exhibited the Banana Thermometer, a banana-shaped smart thermometer for infants and toddlers, said, "This product can be attached and detached on the armpit and can be reused five to six times, If you stick at night, you can check your body temperature changes with your smartphone all night, "he said.
It also introduced AI loudspeakers, which are technically competitive in domestic and foreign companies. The Titan platform, which carried out the pilot project of AI speaker with SK Telecom, succeeded in attracting buyers` interest by introducing English and Korean version of AI speaker.
Unlike AI speakers such as SKT, Naver, and Cacao, the company`s devices are not only speakers but also display screens and camera functions. When I called "Tinkerbell," the Titan speaker responded by turning the screen toward the speaker.
Seo Jung-woo, vice president of Titan platform, stated "We have basic AI speaker functions such as weather confirmation and music playback." We are looking for partners who are doing platform cloud services and taking advantage of the onboard functions such as screen and camera. I will provide services. "
Woori Bank & POSCO Daewoo and Iris, which are using the iris authentication technology and demonstration project for security certification, demonstrated the iris authentication solution and tried to cooperate with overseas buyers.
"After the news that Hong Kong Electronics Fair was participating in the event, 5 overseas buyers contacted me and finished the meeting," Shin Hyung-seop, a platform representative, said, "The pamphlet we prepared was very interested in the same day.
The Hong Kong Trade Development Authority estimates that the number of electronic warfare visitors exceeded 100,000 this year. "Visitors to Smart City, the main theme of the ICT fair this year, were particularly interested in visitors," said Byron Lee, director of the Hong Kong Trade Development Bureau. "Visitors are expected to have grown more than last year thanks to their interest in the latest solutions and services."
Hong Kong = By Park Jong Jin truth@
[ copyright ⓒ The Digitaltimes ]