'Warning' sign on 5G commercialization, should we wait by the next year

Kim Ji Young | kjy@ | 2018-04-16 11:12:03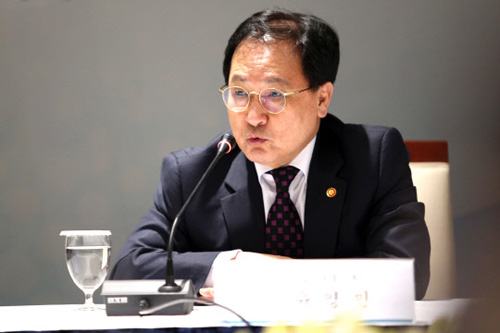 Yoo Young-min held a meeting with CEO of Cable TV at Jeju Busan Hotel on April 12. Photo by Ministry of Science and Technology
[Digital Times, Kim Ji-young] In March of next year, there was a possibility of a change in the government`s plan, which failed to commercialize the world`s first 5G mobile communication (5G). It is pointed out that it takes more time for the terminal and equipment to be commercialized in a true sense even if the infrastructure for 5G is built.
Yoo Young-min, the minister of information technology at the Ministry of Science and Technology, said at a meeting with CEOs of Cable TV at the Bu Yeong Hotel in Seogwipo City on April 12. The minister said, "We will be in the first half of March next year, 5G," explaining the 5G roadmap. "In order to commercialize 5G in the first half of next year, we must have devices and telecommunication equipment that can be implemented in reverse, implement frequency auctions and allocations," he said. "Governments must provide a predictable model for the market." He added.
This is different from the fact that Yu shouted the world`s first 5G in March of next year. According to the analysis, it seems that there is a change in the government`s policy that aggressively promoted the world`s first 5G commercialization in March next year. In particular, considering that it was a place to talk freely with luncheons with CEOs, it is an analysis of the industry that the minister mentioned the point of commercialization as "Let`s make it in the first half".
Some argue that commercialization should not only build infrastructure but also commercial business models, and that the government is feeling burdened. In fact, there is not much noise in the development process of 5G terminal and frequency confusion problem.
According to the industry, smart phones are the biggest measure of 5G `commercialization`. This is because services that actual users can experience are implemented in smartphones. Semiconductors such as Qualcomm and Intel are planning to launch chipsets for 5G in the first half of next year. The industry needs to be able to manufacture, sell and distribute smartphones that have to be applied in the first half of this year.
Besides, the 5G frequency auction schedule can be delayed. The Ministry of Information and Communication said it will consider a method to auction only 280 ㎒ bandwidth among 3.5 ㎓ band for 5G. Although it was expected to auction the 300MHz band, the 20MHz band is likely to be excluded due to interference problems. Some operators have suggested that even if the auction schedule is adjusted, frequency interference should be resolved.
An industry expert said, "We are focusing on quickly building the 5G world `first` but in fact, the business model that can be shown until March next year is not clear," he said. "Japan and China, It means to secure the model and do the right 5G."
By Kim Ji Young kjy@
[ copyright ⓒ The Digitaltimes ]