Display facility in 'Chinese breeze'… KRW 19 trillion worth market in target

Kim Eun | silverkim@ | 2018-04-13 10:49:06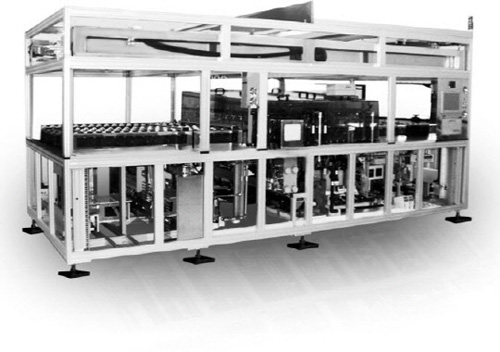 DMS's Highly Integrated Cleaning Equipment (HDC). Photo by DMS
Domestic equipment makers are taking a breather in China as facility investment in the Chinese display industry is on the rise. Especially, equipment investment in the domestic display industry is delayed this year, and the equipment industry is inevitably forced to play a vital role in the Chinese display market.
According to the market researcher DSCC, the world`s total display facility investment is estimated to be about KRW 22 trillion, of which China will be worth KRW 19 trillion and Korea will be worth KRW 2.6 trillion.
According to the industry on April 12, China`s No. 1 display maker BOE announced its investment in a third small and medium-sized organic light emitting diode (OLED) plant on March 8. The BOE is expected to receive RMB 16 billion in RMB 26 billion from the capital of Chongqing. With this investment, the company will be able to mass-produce 6G-sized small and medium-sized OLED panels at 144,000 sheets per month by 2020. In addition to the BOE, local companies such as China Star (CSOT) and Vision Oaks (GVO) are investing in facilities one after another. Some say there is concern that the Chinese central bank`s lending regulations will lead to a decline in China`s display investment.
Meanwhile, in Korea, display companies such as Samsung Display and LG Display are delaying investment in small and medium-sized OLED equipment. This is because demand for OLEDs for smartphones is expected to decline due to weak sales of new Apple iPhones. LG Display delayed the P9 • E6 6G flexible OLED investment scheduled for the first half of this year. Samsung Display also delayed its investment in A2E and A4 for about six months, and the new plant, A5, was temporarily suspended.
Accordingly, most domestic display equipment makers are concentrating on sales in China to make up for sluggish domestic sales.
DMS succeeded in winning orders of KRW 42.9 billion in display equipment from BOE in China on April 11. In the first quarter, the company signed a contract to supply KRW 6 billion to Jiangxi and KRW 21 billion to China Star. The company is supplying high-end cleaning equipment (HDC), peeling and developing equipment to display companies such as BOE in China.
Shinseong ENG also signed a supply contract with BOE of China for the amount of KRW 21.6 billion at the end of last month. Earlier in January, the company received orders for equipment worth KRW 93.1 billion from CSOT in China. The company mainly supplies Automatic Material Transmission System (AMHS), which facilitates the logistics flow in the LCD process.
Top Engineering also signed contracts to supply equipment worth W3.1bn to China Jiangxi In-Tech on the 11th following the first orders of about 29 billion won from Chinese companies such as Jiangxi In-Tech and Kandeshin in the first quarter of this year. The company is expected to supply 100 billion won worth of equipment to Chinese companies by the first half of this year.
SFA also succeeded in winning clean logistics equipment from China GVO and BOE. We recently signed an agreement with China BOE to supply equipment worth KRW 153.3 billion.
An industry expert said, "China BOE and CSOT are investing heavily in other companies and investing in other companies," he said. "Due to the uncertainty about investment in domestic display facilities, China will have to survive."
By Kim Eun silverkim@
[ copyright ⓒ The Digitaltimes ]