UHD TV to have fallen 70% within 5 years…Popularization era to start

Kim Eun | silverkim@ | 2018-04-11 11:19:49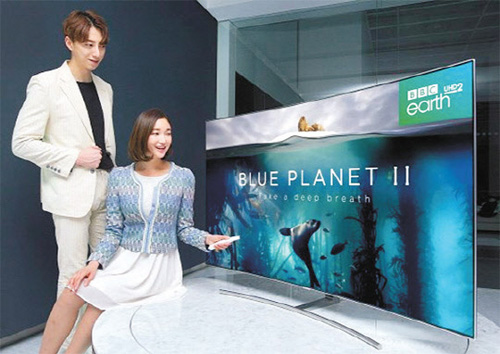 The price of Ultra High Definition (UHD) TV, which is emerging as a global TV market, has fallen by 70% in the last five years. Half of the TVs sold this year are expected to be UHD TV products, and UHD TVs are expected to be popularized in earnest.
According to market researcher IHS Markits on April 10, the price of a typical 65-inch UHD TV dropped to 747% from USD 5216 in the third quarter of 2013 to USD 1307 in the third quarter of last year. The 55-inch model also fell 72% to USD 592 last year from USD 2,187 in the same period. The prices of 65-inch UHD TVs in 2013 were only KRW 8.9 million, but the price of 65-inch products dropped to KRW 2 million.
Unlike in the early days of the market, UHD TV makers are increasing, and production costs are reduced due to mass production. Currently, UHD TV makers include Samsung Electronics, LG Electronics and other 90 companies.
Here, UHD panel prices are likely to fall further as UHD TV prices fall.
Samsung Electronics and LG Electronics are pushing for premium UHD TVs, and expanding their product lineup to include more popular products has led to the popularization of UHD TV.
Samsung Electronics` flagship QLED TV this year supports most of the 4K UHD, and some products offer 8K super high quality. LG Electronics also releases all OLED TVs released this year as UHD images.
Besides, content providers such as Netflix and YouTube seem to have contributed to the rapid increase in UHD content. As a result, the UHD TV sales portion of the overall TV market is rapidly increasing, as it has been reduced to ultra-high quality and price. Actually, 35.8% of the TVs sold in the world TV market last year were UHD TV products. This year, UHD TV sales will account for about half of the total sales.
"The price of UHD TVs is declining, and major TV manufacturers such as Samsung, LG and Sony will push UHD as their main product this year." "UHD TV display panel prices are gradually falling, and UHD TV sales are expected to increase significantly," an industry official said. .
By Kim Eun silverkim@
[ copyright ⓒ The Digitaltimes ]