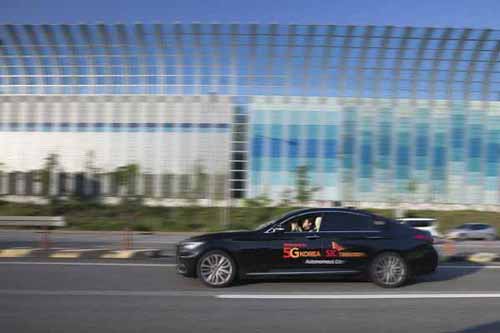 [Digital Times, Jong Ye-rin] Have you heard a lot of the words `5G` these days and 5G in the Olympics and 5G in TV commercials? It will tell you so much about words that combine a number and an English word. When we talk about communication, we usually put `G` or `Generation` behind. 5G refers to 5G mobile communication. It is the next generation mobile communication that comes next to Long Term Evolution (LTE), which we call the fourth generation mobile communication.
So, what will be different from the present when the 5G age comes? 5G is 20 times faster than the current maximum LTE speed of 1Gbps. In addition, the capacity that 5G can handle is expanded 100 times. In other words, when the 5G world comes, such super-fast, large-capacity features will enable super-high-definition movies to be downloaded in 1-2 seconds.
Also, 5G has a big impact not only on ICT but also on surrounding industries. It is because it can supply various services more conveniently and smoothly by utilizing the characteristics of ultra-fast and super soft. Recently, Yu Young Min, Secretary of the Ministry of Information and Communication, has directly pointed out `Healthcare` and `Smart City` as food for the 5G era at the National Assembly. In addition, industry experts and some consulting firms view media services such as autonomous vehicles, virtual reality (VR), and augmented reality (AR) as 5G services with high power. Other businesses that can apply 5G include the manufacturing and security industries. Let`s look at some of these services that are closely related to our lives, and we will see how our lives will change and how they are preparing.
First of all, let`s talk about the health care areas that people are most concerned about with `health`. In the age of 5G, 5G`s ultra-high-speed, ultra-connectivity features enable a variety of medical devices to be driven quickly in many environments. This allows the doctor to diagnose and prescribe without seeing the patient. In other words, when 5G is commercialized, you can provide personalized healthcare services to patients in any environment other than the hospital.
◇ Strengthening mobile health care business ahead of 5G era = Mobile telecom companies are rapidly entering the health care industry. In particular, KT`s movements are noticeable. Since last year, KT has entered into a business agreement with Sverdbank, a Russian state-owned bank, and has established a system to integrate the patient`s medical treatment data by linking `DocDoc`, a mobile medical reservation service, with Svetlanka KT`s digital healthcare platform. I am in. In addition, KT`s mobile diagnostic equipment will be supplied to trains to diagnose cardiovascular diseases, respiratory diseases, diabetes, etc. through blood and urine, and ultrasound screening will be conducted to enable fetal sonography of pregnant women.
SK Telecom revealed `LTE Cat.M1 technology` which can transmit video and high definition (HD) image at `Mobile World Congress (MWC) 2018` exhibition recently. Park Jung-ho, president of SK Telecom, said, "We are looking for a new profit model in the bio-healthcare market where large-volume data transmission, analysis, and real-time monitoring and management are important."
◇ Autonomous driving car Representative movement means of 5G age = Next, the tea industry, which is the means by which we move, is expected to change at a rapid pace. Did you know that self-driving cars that you often see in movies are still on trial on actual roads? In the age of 5G, we will be able to ride autonomous vehicles directly beyond the test phase.
On the other hand, autonomous vehicles use sensors to process information such as weather and road environment. LTE`s information processing time is 0.05 second. However, when 5G is introduced, the reaction rate is increased to 0.001 second. In other words, it will be able to respond to the threats of traffic environment much faster than people. Mobile operators are accelerating the development of autonomous vehicles. SK Telecom plans to build a high-definition map system (HD map) that will provide the state of major roads including the national highway by cloud until next year. This HD map auto-update technology can alleviate the hassle of having to update the driver manually, such as navigation on an existing car. Especially, it is necessary to reflect the situation of the changing roads and update quickly in order to safely operate an autonomous driving vehicle. SK Telecom plans to launch the LV4 technology, which is an autonomous driving stage that does not require driver intervention, which was originally planned to be completed around 2020, until next year. KT plans to demonstrate 5G service at Hyundai Motor and NEXO, an autonomous hydrogen-powered car, during the Paralympics, following the 2018 PyeongChang Winter Olympics.
◇ 5G high-definition VR video era opens = Finally, let`s look at `VR` and `AR` that we can enjoy. In 5G era, 4K UHD video as well as 8K UHD video can be used as streaming service. In addition, high-quality VR video relay becomes possible. With VR, we can not only feel like we are in the arena where the baseball is going, but we can also pick out the information we want. LG Uplus is currently offering `5G Professional Baseball Live`, `Super High Definition VR Video` and `4K Video`, which can be viewed as position-based video and 360-degree virtual reality (VR). Interactive Time Slice, Sink-View, Omni-View and 360-degree VR, which KT introduced at 5G service in the PyeongChang Winter Olympics, were well received around the world. How is it? New services will start in a wide variety of areas, right? Let`s wait for the 5G era that will change us more convenient and fun!
By Jong Ye Lin yeslin@
[ copyright ⓒ The Digitaltimes ]