Auto charging by robot hand for parking… Volkswagen to reveal 'Color' in Geneva Motor Show

Ye Jin Soo | jinye@ | 2018-03-09 11:05:59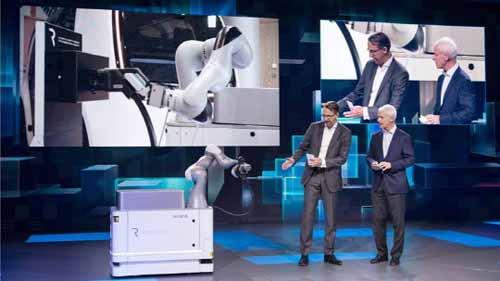 Volkswagen Group representative are introducing 'Charla', a charging robot that automatically connects charging cables when an electric car is parked in a parking lot at the '2018 Geneva Motor Show' in Geneva, Switzerland. Photo by Volkswagen Group
Volkswagen to present `Color` at Geneva Motor Show
Volkswagen, the world`s No. 1 car maker, unveiled its car charger `Color` for the first time at the `2018 Geneva Motor Show` held in Geneva, Palexpo on March 6. Tesla`s fast-charging electric car system, the supercharger, is said to have been put in the wrong place.
According to the automotive industry on March 8, Volkswagen developed a color car with a German industrial robot company, Kuka, which is a robotic charging system that shortens the charging time of an electric car. Once the electric car is parked in the designated space, the robotic arm moves itself to connect the charging cable to the car. Each time you charge, you can get out of the car, find the cable, and save time on connecting. The robot moves and can be charged quickly in DC (DC) combo for several electric vehicles in public places, business parks, and homes.
Meanwhile, Volkswagen and Kuka signed a strategic alliance last year to develop autonomous vehicles and automatic parking technology. This robot automatic charging system is part of Volkswagen`s e-Smart Connect. Kuka`s robot expert and Volkswagen Group technologists have collaborated on a joint research project to solve the technical difficulties and the problem of fully charged identification of robotic sensors in finding and opening their own charge sockets, Volkswagen stated.
"This year`s Geneva Motor Show has emerged as a key technology for autonomous driving," an industry expert said and innovative electric vehicle charging technology using robots means expanding the autonomous drive vehicle to the parking infrastructure in the future."
Tesla is also spurring the development of automatic charging technology. Tesla patented a "wireless auto-charging system" last year, which automatically links an electric car to a battery-only charging system. In addition, the charger`s arm moves like a snake, and rapid charging technology and wireless pad method are being developed.
According to the EV market research company EV, Tesla introduced 100,312 superchargers last year. Tesla`s model 3, which led the electric car craze, is expected to start delivering full-range vehicles in Korea in the second half of the year. The model 3 can run 346 kilometers on a single charge, and its performance is no different than a combustion engine, but the price is about $ 35,000, half the price of the existing model S. In relation to this, Tesla has also installed superchargers in 14 places in Korea and installed 131 full-speed chargers.
By Ye Jin Soo jinye@
[ copyright ⓒ The Digitaltimes ]