SamsungㆍLG, UHD TV to catch `Pyeongchang special`…48% up in this year

Kim Eun | silverkim@ | 2018-02-12 10:26:10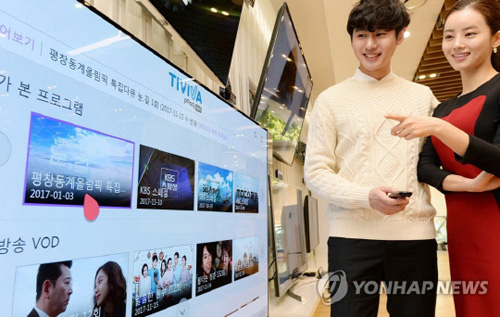 By Yonhab News
[Digital Times, Kim Eun] Korean TV makers such as Samsung Electronics and LG Electronics have started to catch special sports such as PyeongChang Winter Olympics and World Cup soccer with ultra high quality (UHD) TV.
Starting from the capital area on May 31 last year, terrestrial UHD broadcasting services were started in some areas of Gangwon, including Pusan, Daegu, Daejeon, Gwangju and Ulsan, and Pyeongchang, Gangneung and Wonju areas. But UHD TV penetration is not high yet.
According to market researcher IHS Markets on February 11, the penetration rate of UHD TV in Korea is 6%, which is still lower than that of major overseas countries such as Hong Kong, Luxembourg, USA, UK and China.
The penetration rate drops given that Korean TV makers dominate the world TV market,. This is because the price of UHD TV is still high and there is not enough UHD content to view properly.
Domestic TV makers such as Samsung Electronics and LG Electronics will concentrate on UHD TV sales, considering that the big sports competitions such as the Pyeongchang Winter Olympic Games and the Russia World Cup in June will be able to enjoy UHD contents properly.
Three terrestrial broadcasters will broadcast the PyeongChang Winter Olympic Games on UHD broadcasts four times more clear than the current high definition (HD) broadcasts.
According to the distribution industry, such as E-land, the demand for UHD TV has increased significantly in the first half of January, ahead of the PyeongChang Olympics, with sales of high-definition and large-format TVs surging 48% over the same month last year.
Currently, UHD TV makers are around 90 worldwide, including Samsung Electronics and LG Electronics. IHMarket predicted that domestic UHD TV penetration will rise to 9.8% this year thanks to the Sports Big Event.
Especially, LG Electronics will use the world `s first UHD interactive service` TIVIVA `to provide exclusive services for real-time viewing of UHD broadcasting services and major events not included in terrestrial broadcasting.
Also, by the end of March, UHD TV buyers will be marketing free of charge antennas to receive terrestrial UHD broadcasts. LG Electronics` twelve organic light emitting diode (OLED) TV products are all UHD TVs.
Samsung Electronics is pushing for UHD TV sales by introducing products named `Pyeongchang Special Edition TV` to QLED TV in line with the PyeongChang Olympics.
All of Samsung`s QLED TV products have received a premium UHD certification from the UHD Alliance, a UHD technology alliance.
Earlier, the company also offered discounts to UHD TV buyers, selling terrestrial UHD reception cards at 43 % lower prices. Samsung Electronics exclusively supplies UHD TV to the local Pyeongchang Winter Olympics. All the players, visitors, and officials who visited Pyeongchang will watch the game on Samsung TV.
Samsung Electronics and LG Electronics have also introduced a dedicated converter to solve the problem that UHD TV technology (DVB-T2) released before 2017 is not compatible with current terrestrial UHD broadcasting standard (ATSC 3.0).
The converter converts the ATSC 3.0 signal to DVB-T2, and also applies the Receive Limit System (CAS) de-encoder. "The UHD TV market will continue to grow steadily despite the global TV market stagnation." With the resolution of terrestrial UHD reception problems, UHD TV accounted for 44% of global TV sales, It is expected to increase to about 71% by standard. "
By Kim Eun silverkim@
[ copyright ⓒ The Digitaltimes ]