Cyber security in warning due to hacker attack… " ICT power country to be proven by strong security"

Lee Gyung Tak | kt87@ | 2018-02-12 10:22:47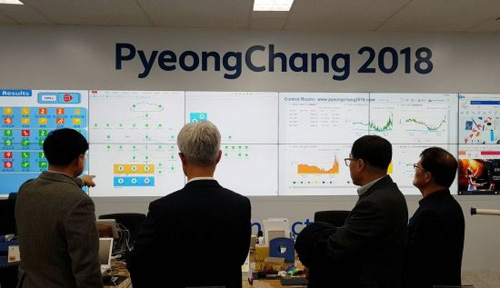 By Yonhab News
■ Pyeongchang Winter Olympic Games
There are concerns that cyber emergency may not occur during the contest, as hacking attacks and phishing scams aimed at the PyeongChang Winter Olympics are soaring. In particular, the Olympic Games are a global event, so there is a high possibility of social confusion and political hacking.
According to Kaspersky Lab, the number of cyber attacks reported at the Beijing Olympics in 2008 reached 190,000, or 12 million a day. At the London 2012 Olympic Games, over 200 million Olympic games were attempted to attack the official website. There were 322 million attacks at the Sochi 2014 Winter Olympics and 570 million attacks at the 2016 Rio Olympics. This trend is expected to further increase cyber attacks during the Pyeongchang Olympic Games.
In fact, US security firm McAfee has detected a malicious code e-mail addressed to the PyeongChang Olympic-related organization early last month, followed by a file-less cyber attack targeting the Olympic organizations this month. The attack detected a hacker connecting his server and the victim system to pull data away.
The version that only spreads in the Korean document was confirmed. In particular, a hacking e-mail entitled "Compared to 2018 Pyeongchang Winter Olympic Games" was detected by impersonating government agencies, and a hacking e-mail was also found purporting to be a publicity event related to the Pyeongchang Olympics. Earlier this month, a hacker team that introduced themselves as "Fancy Bears" revealed that they hacked emails from the International Olympic Committee (IOC) and the International Luge Federation (FIL). They are known to be associated with Russian intelligence agencies.
In connection with this, the Russian Foreign Ministry dismissed suspicions that hackers in Russia attempted a cyberattack on the infrastructure related to the Pyeongchang Olympics on February 7 (local time). "There is no evidence, of course, that the world will not be exposed," the foreign ministry said in a statement, saying that Western media are investigating the Russians` suspicions of hacking the Pyeongchang Olympic facility.
The US Cyber Forensic Training Alliance (NCFTA) has also warned that there will be a variety of potential cyber security threats to Pyeongchang Olympics participants, visitors, sponsors and individuals. The use of Wi-Fi to steal personal information and phishing attacks that purported to be Olympics were among the leading cases. There is also a possibility of disturbing admission ticket purchasing and access authentication system attacks, scoring result manipulation, and on-site facilities system.
Meanwhile, in preparation for the situation, the Ministry of Science and Technology, Ministry of Information and Communication and the Korea Internet Development Agency (KISA), together with KT and Igloo Security, are monitoring 24 hours in preparation for cyber attacks such as DoDOS attack and malicious code distribution during the PyeongChang Olympic Games.
An expert from the security industry said, "The Pyeongchang Olympic Games can be an attractive cyber attack target as it is a widespread use of advanced ICT technology." "It is expected that many hackers will try to invade the system and cause confusion." said. "If we respond effectively to the threats, it will be an opportunity to demonstrate Korea`s cyber-security capability globally," he stated.
By Lee Gyung Tak kt87@
[ copyright ⓒ The Digitaltimes ]