Overseas marketing opening for SKT Mobile IPTV technology

Jung Yi Lin | yeslin@ | 2018-01-12 10:54:28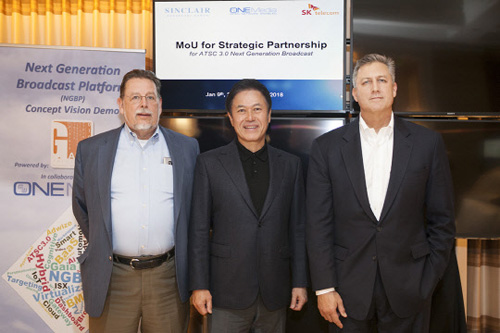 SK Telecom is expected to jointly develop the next-generation ATSC 3.0 broadcasting platform with Sinclair Broadcasting Group, a US terrestrial broadcaster. (From left) Mark Aken, Vice President of Sinclair Broadcasting Group, Park Jung-ho, President of SK Telecom, Kevin Gage Sinclair Subsidiary One Media CTO is taking a commemorative photo. Photo by SK Telecom
SK Telecom`s mobile IPTV technology has opened a way to enter the US and overseas markets.
SK Telecom, on January 11, revealed that it signed a memorandum of understanding (MOU) with Sinclair Broadcasting Group, a US terrestrial broadcaster, to co-operate with the next-generation ATSC 3.0 broadcasting industry.
The event was held in Las Vegas, where the world`s largest consumer electronics show "CES 2018" is held, attended by Park Jung-ho, CEO of SK Telecom and Vice President Mark Aken, Sinclair. Sinclair is a terrestrial broadcaster with 173 TV stations and 514 channels across the United States.
The two companies are expected to jointly develop a broadcasting platform using ATSC 3.0, which was set as the next generation broadcasting standard in the United States. The next-generation broadcasting platform combines UHD contents, IP-based viewer-customized services, personalized and local customized advertising services, fixed-type mobile broadcasting, and regional-based disaster notification services.
Especially, the two companies plan to utilize SKT`s mobile IPTV technology. SK Telecom has the `MMT (MPEG Media Transport)` standard, which is a technology to transmit next-generation high-quality video and mobile MMT application technology, which takes advantages of mobile environment.
Besides, the two companies will showcase next-generation broadcast services in some parts of the United States and plan to commercialize them in response to requests from viewers. In the future, the company plans to advance into India, which is likely to introduce broadcasting based on the ATSC 3.0 standard as well as the United States.
Park Jung-ho, president of SK C & C, said, "In cooperation with Sinclair, SK Telecom`s media technology has enabled us to innovate the global broadcasting industry and secure new growth engines. "We will accelerate the development of a convergence business model that will enable us to create new markets that users cannot think of by sharing infrastructure."
The two companies will demonstrate the first generation of the ATSC 3.0 broadcast platform and application services at the National Association of Broadcasters Show (NAB) show in Las Vegas this April.
By Jung Yi Lin yeslin@
[ copyright ⓒ The Digitaltimes ]