"CES hero would be 'China'… AI home appliances are astonishing" Korean technology to be chased closely

Kim Eun | silverkim@ | 2018-01-11 11:00:25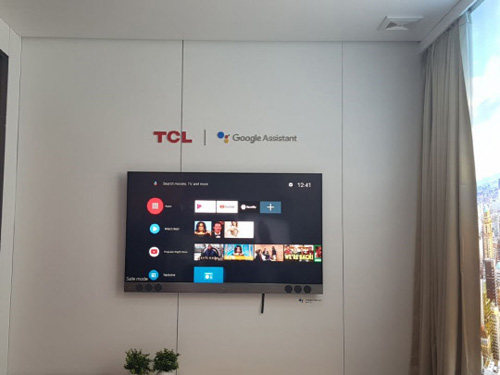 The world's largest consumer electronics IT exhibition at the CES 2018, the held in Las Vegas, US consumer TV company TCL launched a smart TV using Google's Google assistant.
2018 CES review
Chinese consumer electronics companies, which have been called "copy carts" (imitation products) in Korean appliances, showed a clear change in CES this year. The Internet of Things (IoT), as well as artificial intelligence (AI) home appliances to secure its own technology, the world has been at the center of the industrial typhoon.
The world`s largest consumer electronics and IT exhibition at the CES 2018, opened in Las Vegas on January 9 and it is clear that Chinese electronics companies have grown not only quantitatively but also qualitatively.
Heise Sense, the biggest booth among Chinese consumer electronics companies, is introducing the TV `H10E`, which is a combination of Amazon`s AI speech recognition platform `Alexa` and Google AI secretary `Google Assistant`. . Once in the booth, visitors can use the 65-inch Curved Ultra High Definition (UHD) TV that supports `Alexa`. Asked Alexa, "How long does it take from Las Vegas to Incheon Airport?", The TV screen showed a clear picture of how long it took from Las Vegas airport to Incheon airport and how to get there.
Meanwhile, Chinese electronics maker Chang Hong set up booths more than twice as big as last year and introduced its AI platform `CHIQ` to OLED (organic light emitting diode) TVs. Developed its own AI platform for the first time last year and applied it to smart TVs, this year released the upgraded 3.0 version `AI OLED TV`. In particular, Chang Hong has developed the AI platform `CHIQ`, which plays the role of BIX of Samsung Electronics last year, and introduced products that expanded to include air conditioner and refrigerator this year. You can control the temperature of the air conditioner while watching TV and you can even make smart orders as well as refrigerator temperatures.
China TCL, on the other hand, has introduced a new product that uses the Google assistant for smart TV in a built-in format. TCL uses a microphone on the smart TV remote control so that when the user tells the remote control to say, "Let me know Korea weather", the Google assistant shows me the Korean weather and clothes on the TV screen immediately. According to a TCL official in China, "Since we introduced AI technology for the first time in TV, we will expand it to other home appliances such as air conditioner and washing machine." "With AI technology, TV is the center product of smart home." he stated.
Chinese Elements, Funai and Haier also introduced Android TV with Google`s AI platform `Google Assistant` at this exhibition. Last year, Haier acquired GE`s electronics division, which unveiled a product that applied `Google Assistant` to the oven. You can view the cooking process through the mobile app and control the cooking function.
About one-third of Chinese companies are in the process of the 4,000 companies that participated in the CES. Some of the virtual reality (VR) appliances, electric cars, and drums have already surpassed Korean technology.
An industry expert said, "The CES hero is far from China, and the technological power of Chinese companies has come up at a terrifying pace." It is true that domestic appliances makers such as TVs are leading the AI home appliances market. I think it is not too far to go back to capital, market, policy support, and to reverse our country in the AI home appliance industry. "
By Kim Eun silverkim@
[ copyright ⓒ The Digitaltimes ]