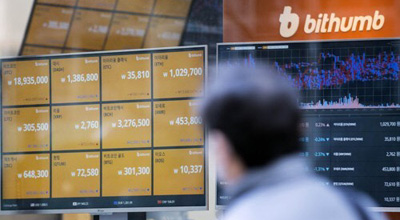 [Photo] YONHAPNEWS
Investigations to block virtual currency speculation are spreading to virtual currency exchanges following commercial banks.
In particular, after the financial authorities, the virtual money market is getting tense because there is an atmosphere to add to the police and judicial institutions.
Especially, the financial authorities have confirmed that the so-called `honeycomb account` has been operated in some virtual currency exchanges in a special investigation, and the police have also found that they are grasping illegal transactions against coinone, the third largest virtual money exchange in Korea. The wavelength is expected to grow.
According to the 10-day financials, a major commercial bank stopped issuing virtual accounts for virtual currency exchanges, and some virtual currency exchanges turned out to have operated a honeycomb account with many individual accounts under a corporate account.
These accounts are highly likely to have a large amount of money laundering because their obligation to verify their identity is not properly maintained, and financial accidents that are tangled with trading funds when a third party computer attack such as hacking is likely to spread.
A virtual account is a child account of a corporate account that is used by a corporation or university that requires a large amount of money to be transferred or transferred, and which is used by the bank to identify an individual customer`s transaction. Virtual currency exchanges have operated accounts in a specific person`s name by giving them serial numbers from 1 to 1 million times in their corporate accounts.
However, once commercial banks recognized the seriousness of virtual currency transactions and stopped issuing new virtual accounts last year, the lagging exchanges came to have a general corporate account and then acted as a way to operate a trader`s account under this account Financial authorities are aware.
Analysts point out that the book on honeycomb accounts stored in files such as Excel is more likely to cause errors such as confusion of funds when the number of traders increases and it is also vulnerable to accidents such as hacking, which is highly likely to be exploited for crimes.
The financial authorities believe that these accounts are very likely to have been used for money laundering due to insufficient procedures for checking the blindness. In particular, they have suspected that commercial banks have abolished their virtual accounts and have been supporting or encouraging exchanges knowing they have operated virtual accounts in such a way.
It is not easy to know that if there are countless small transactions in real time in the corporate accounts of virtual currency exchanges, they are being abused for virtual currency transactions.
The Financial Supervisory Authority will finalize on-site inspections of Nonghyup Bank, Industrial Bank of Korea, Shinhan Bank, Kookmin Bank, Woori Bank and Industrial Bank of Korea.
The Korean government also plans to focus on the virtual currency exchange. It is the idea that money laundering, market manipulation, and similar receivers will be closed down even if the criminal is caught.
Police investigations are also accelerating to determine whether the exchange, which is the subject of virtual currency trading, is illegitimate. The cyber criminal investigation team of the southern part of the Gyeonggi provincial police department is investigating a coin exchange that operates a virtual currency margin trading as gambling.
Coinone is the virtual money margin trading service by mid-month. The service was a way for members to predict the price of up to a week after they chose a short sale or a short sale and lost or won money according to the results.
In the current criminal law, it is considered gambling to determine the profit and loss of property by accidental victory and victory.
The police decided that the coin-in-marginal transaction service predicts the market price after a certain period of time, and that the profit or loss is determined by accidental win and loss.
If it is judged illegitimate through a police investigation, it is likely that the coin will be charged with the illegal gambling establishment.
Meanwhile, since coinone the legal review at the time of starting the margin trading service and confirmed that there was no illegality, it would be difficult for the coin to be legally recognized as an illegal gambling place. "Before the start of the margin trading service, Coin won carefully examined the legality of the service and provided the service after receiving the legal review statement confirming the absence of the illegality." Nevertheless, "We have stopped margin trading services in order to build a sound and stable market environment based on the opinion of the financial authorities concerned about the overheating caused by the rapid growth of the virtual money market." Especially, Coin won "If you want to ask all the members who have been requested to attend the inquiry survey because you used Coin One`s margin trading service, you will be counseled so that you will not be disadvantaged by law, "He added.
By Kim Dong Wook & Kim Min Soo east@
[ copyright ⓒ The Digitaltimes ]