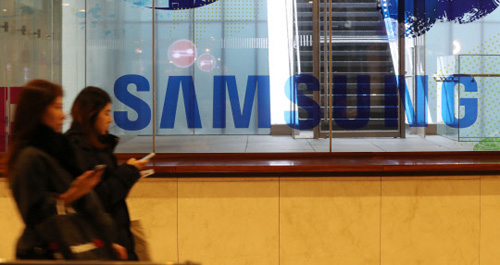 Samsung Electronics earned KRW 53.6 trillion in operating profit for the first time last year and posted an annual operating profit of KRW 50 trillion. The annual sales amounted to KRW 239.6 trillion, reaching KRW 240 trillion, the highest ever. The photo shows a Samsung office building in Seocho-gu, Seoul on the morning of January 9. Photo by Yonhab news
Samsung Electronics has exceeded Quantum by KRW 24 trillion in operating profit in one year.
Last year`s operating profit is more than doubled from 2014. Thanks to the tremendous boom in which semiconductor accounts for 65% of total operating profit,
However, optimism and pessimism are mixed about whether such earnings will continue to rise this year.
This is due to the market outlook for memory semiconductors, which is the main revenue source, is piling up. There is a consensus that the recent appreciation of the won will be a bad news for SEC`s earnings.
Samsung Electronics, on January 9, revealed the consolidated financial statement that it recorded sales of KRW 239.6 trillion and operating profit of KRW 53.6 trillion in 2017.
Compared with the previous year, they increased by 18.69% and 83.31% respectively. Compared to the previous record of KRW 228.69 trillion in sales and KRW 36.79 trillion in operating profit in 2013, and there is a huge difference.
This strong performance was led by Semiconductor, a representative of DS (Device Solutions) business.
According to the industry, Samsung Electronics expects to earn KRW 34 ~ 35 trillion in operating profit, which is equivalent to 65% of total operating profit only in the semiconductor business.
This is attributable to strong demand for semiconductors, driven by smartphone capacity growth, server memory demand growth, and PC market recovery.
Meanwhile, according to market researcher DRAMExchange, DRAM standard product prices rose 85.1% in the previous year and NAND flash prices also climbed 32.7%.
The IM (IT and mobile) division, which focuses on smartphones, posted sales of KRW 12 trillion, while the remaining portion of the DS division, operating at a level of 5.6 trillion won, and CE (consumer electronics) .
The IM division was able to overcome the Galaxy Note 7 termination crisis.
In the case of CE division, earnings deteriorated due to sluggish TV business. Samsung Electronics` 2016 operating profit has been KRW 13.6 trillion in semiconductor, KRW 10.18 trillion in IM, KRW 2.2 trillion in display, and KRW 2.64 trillion in CE.
However, the securities industry has a mixed outlook on whether this growth will continue this year. Positive factors are the continuing demand for semiconductors and displays due to the expansion of iPhone X sales, and the IM division`s earnings improvement following the launch of the Galaxy S9 early on.
It is also positive that demand for memory semiconductors will increase exponentially in order to handle the explosion of data usage due to the spread of high-speed communication services, artificial intelligence and internet (IoT) globally.
Conversely, some securities firms, such as Morgan Stanley, are showing a negative outlook that memory semiconductor prices have already peaked and are likely to oversupply again.
Samsung Electronics and SK Hynix are expected to mass-produce additional capacity at the end of next year and early next year. In addition, the decline in the smartphone market and the cost of investment in the local production plant due to US protection trade are among the negative factors.
Besides, the absence of strategic investment due to the ongoing loss of foreign exchange due to the continued strength of the won and the owner vacancy, and the burden of labor costs on the part of the government`s employment policy are also burdensome. Lee Seung-woo, a researcher at Eugene Investment & Securities, said in a recent report, "The semiconductor boom is expected to continue this year, but the exchange rate is likely to be a variable."
By Park Jung Il comja77@
[ copyright ⓒ The Digitaltimes ]