AI robot communicating with human…A major offensive on home & car industry strategic product

Park Jung Il | comja77@ | 2018-01-10 11:16:26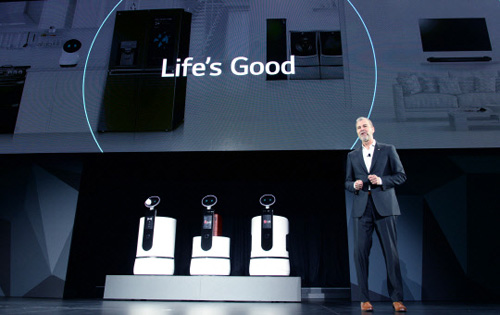 At the Global Press Conference held at the Mandalay Bay Hotel in Las Vegas on August 8, LG Electronics announced that it will provide three new robots, including serving robots, porter robots, and shopping cart robots. By LG Electronics
2018 CES review
The robot market that communicates with humans is anticipating explosive growth with the development of artificial intelligence (AI) and Internet of things (IoT).
It is due to robots have been brought together as a strategic product from home appliance companies to automobile and IT (information technology) companies at CES 2018, the world`s largest consumer electronics and IT exhibition, held in Las Vegas on January 9 (local time).
LG Electronics, in Korea, introduced three new robots in Mandalay Bay, Las Vegas on January 8 (local time), including serving robots, porter robots, and shopping cart robots.
Serving robots provide 24-hour service to hotel guests who request room service or airport lounge visitors who request drinks by applying a slide-type shelf to the shelf from the main unit. Porter robots not only carry luggage but also check-in and check-out.
Shopping cart robots are useful in large supermarkets and the like. When you put a barcode on a barcode reader that is applied to the robot, the robot display shows the list of items in the cart and the price.
Meanwhile, LG Electronics also introduced the `CLOi` brand, which encompasses the robot family. This meant `smart and friendly intelligent robot`.
LG Electronics, as well as Sony Japan, is releasing the new Aibo, an AI robot for home use. Ai has been discontinued due to restructuring of its Sony business in 2006. But it was born again in 12 years. The products that Sony unveils have the ability to jump around like real dogs and control their home electronics through their voices. It adds to the appeal of dogs to the existing AI and speakers from Amazon and Google. The robot can be studied in depth by applying AI technology, and the operating system (OS) of the pet robot is developed by Sony.
A Japanese automobile company Honda is an AI emotion recognition companion robot that is based on the concept of `3E (Empower, Experience, Empathy)` that extends human capabilities, grows with people, and empathizes with people and chair-type mobility robot that can be used and autonomous mobile robot along with an AI-based off-road vehicle.
At CES8, not only commercial robots but also humanoid humanoid robots, which are close to human beings, appear. Hanson Robotics, a robot developer in Hong Kong, unveiled a human-like walking bridge at the event, adding to its intelligent humanoid robot, `SOFIA`, which works with Rainbow Robotics to create and communicate 60 expressions.
Besides, 37 robotic manufacturing companies including domestic companies Eugene Robot and Hancom will exhibit their robots in the Las Vegas Convention Center with AI technology.
An industry source stated, "If the past robot focused on physical movements, it is now evolving in a way that communicates with people based on cloud, AI and mobile communication network." "The appearance of intelligent robots will change the way we shape our lives."
Las Vegas (US) = By Park Jung Il & Kim Eun comja77@
[ copyright ⓒ The Digitaltimes ]