Toshiba acquisition battle in final stage…Korea-US-Japan in renegotiation consortium

Park Seul Gee | seul@ | 2017-09-14 11:22:04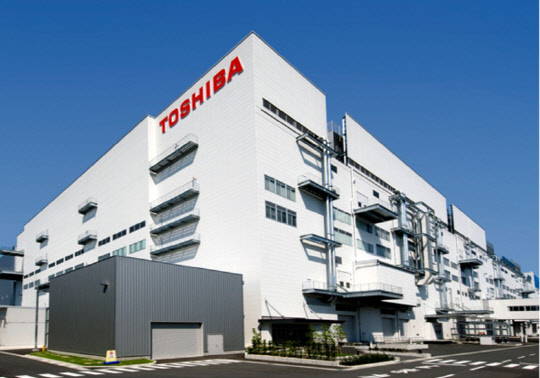 [Photo] Toshiba Yokaichi NAND Flash Production Plant Fab 2 view. Photo by Toshiba
The acquisition of Toshiba`s memory semiconductor business is continuing to hark back to the last minute. A consortium between Korea and the United States and Japan, including SK Hynix, which seemed to have been hungry for the takeover, was selected as a negotiator for the sale, but the observation that Toshiba should keep watch until the end of the final sale negotiations is dominant.
Toshiba, on September 13, stated that it has decided to sign a memorandum of understanding (MOU) with the Korea-US Alliance Consortium, which includes SK Hynix, on the sale of its memory semiconductor business.
However, this MOU was not legally binding, and it could be negotiated with other buyers such as the US-Japan Alliance Consortium and Hong Hi-Jin, which include Western Digital. Toshiba plans to finalize a deal with the negotiator by the end of this month. Toshiba originally planned to finalize the contract on the board at this time, but the industry is still failing to advance the sale.
Meanwhile, Toshiba turned its head back to the US-Japan Alliance Consortium last week as the United States-US Alliance announced an additional R & D expense of 400 billion yen along with the acquisition of 2 trillion yen, which made it more advantageous than the acquisition amount (JPY 2 trillion) proposed by the US-Japan Alliance consortium including Western Digital .
A representative of SK Hynix said, "Nothing is confirmed yet."
By Park Seul Gee seul@
[ copyright ⓒ The Digitaltimes ]