Korea before Taiwan…No.1 in the second quarter in semiconductor shipping volume

Kim Eun | silverkim@ | 2017-09-13 11:10:28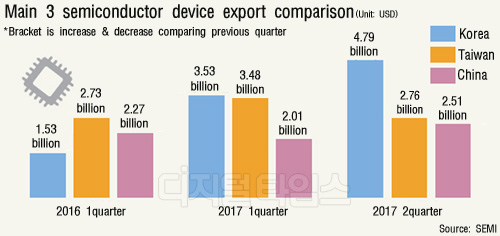 South Korea has surpassed Taiwan in the second quarter after the first quarter of this year, and has been ranked as the world`s largest semiconductor equipment shipper. Samsung Electronics and SK Hynix have aggressively invested in facilities. The world semiconductor equipment market has also been the largest in the second quarter.
According to the International Semiconductor Equipment Association on September 12, shipments of semiconductor manufacturing equipment in the world totaled USD 14.1 billion (USD 15.94 trillion) in the second quarter of this year. That was well above the USD 13.1 billion recorded in the first quarter, up 8 % from the first quarter, and up 35 % from the same period last year.
By region, South Korea ranked fourth with shipments of semiconductor equipment surpassing Taiwan in the first quarter, recording USD 4.79 billion (KRW 5.4 trillion). Korea grew 36% compared to the previous quarter and grew by 212% compared to the same period last year. The domestic semiconductor equipment market is booming, not only for domestic semiconductor companies such as Samsung Electronics and SK Hynix, but also for Chinese companies as they have invested in production facilities such as DRAM and NAND flash.
Samsung Electronics has begun full-scale operation of its Pyeongtaek semiconductor production line in Gyeonggi Province since July. The plant, which was completed in May 2015 and completed in two years, has a total area of 2.89 million ㎡, which is the world`s largest single production facility. The company plans to invest KRW 30 trillion in semiconductor facilities by 2021, spurring expansion of facility investment. SK Hynix plans to concentrate its investment on facility investment to KRW 9.6 trillion this year to avoid missed the 'semiconductor boom'. The Chinese government plans to invest about KRW 200 trillion in construction of 3D NAND flash plant by Chinese companies such as XMC and Tsinghua Universe.
Following Taiwan, Taiwan was second with USD 2.76 billion, followed by China with USD 2.51 billion. Taiwan lost 21% compared to the previous quarter, but China recorded an increase of 25%. It was followed by Japan at USD 1.55 billion, North America at USD 1.23 billion, and Europe at KRW 660 million.
Meanwhile, SEMI, together with Japan Semiconductor Equipment Association (SEAJ), makes a report based on the data collected from 95 global equipment
By Kim Eun silverkim@
[ copyright ⓒ The Digitaltimes ]