Diesel car position getting weaker … 8%P down in 2 years

Choi Yong Soon | cys@ | 2017-09-13 11:30:50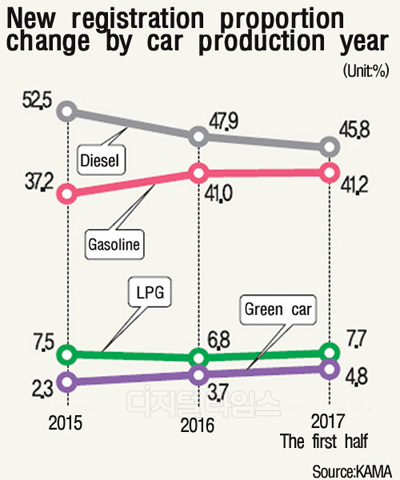 It is becoming increasingly difficult to find a car that is stigmatized by environmental pollution such as fine dust. As the countries around the world are formulating the exit of diesel cars in the next decade, automakers are also reducing the production of diesel cars and expanding eco-friendly cars such as electric cars. As a result, the proportion of diesel vehicles is steadily decreasing in Korea.
According to the Korea Automobile Manufacturers` Association on September 12, the number of new-car-based light vehicles launched in Korea in the first half of this year accounted for 45.8% of the total 959,158 registered vehicles of 439,700. In the first half of 2015, the share of light vehicles in new cars accounted for 53.2%, accounting for more than half of all vehicles. In 2 years, the share of new diesel vehicles dropped by 8 percentage points. If we continue this trend, the share of Icelandic cars will drop by two digits in two years.
The decline in sales of diesel cars is attributed to a decline in sales of domestic diesel SUVs and a decline in sales of imported diesel cars such as Volkswagen. Besides, it seems that the government is moving away from diesel cars and consumers are shifting to eco-friendly cars such as hybrid cars.
Hybrid cars and electric cars actually grew steeply. Hybrid car sales in the first half increased by 16.8% YoY to 37,974 units, while electric vehicles sold 5041 units, surging 497% . Especially, electric vehicles have already filled 5,000 units, the total number of registered cars, in the first half of last year, thanks to an increase in subsidy for purchasing and the launch of a new car.
The industry expects that the trend of diesel cars will decline further in the future. This is due to the automobile market is rapidly changing along with government regulations on diesel cars. Although the fuel efficiency is considered to be the most advantage of the light car, the hybrid car and the electric car which are more efficient due to the technological advancement are introduced one after another, so that the consumers who insisted on the light car will gradually move to the environment friendly car.
Meanwhile, automakers are shifting their strategy to expanding the eco-friendly car line rather than expanding the diesel car model. Currently, companies are maintaining a diesel car model to meet market demand, but it is hard to expand.
Industry expert said, "Governments and auto makers have already set their sights on green cars," he said. "Although the diesel car will not have much of a demand right now, it will not be able to overcome the market trend."
By Choi Yong Soon cys@
[ copyright ⓒ The Digitaltimes ]