Galaxy Note 8 pre-order in 650k unit, the highest in history…Koh Dong-jin "Foldable phone to be launched next year

Kim Ji Young | kjy@ | 2017-09-13 11:08:48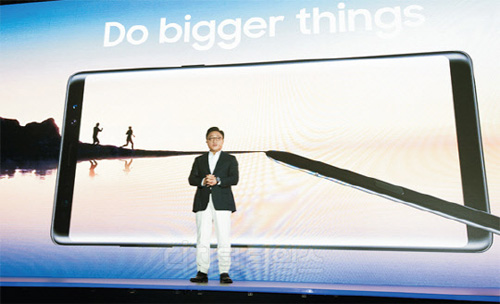 Koh Dong-jin, president of Samsung Electronics 'wireless business, is introducing Galaxy Note 8 on' Galaxy Note 8 Media Day 'held at Samsung Multipurpose Hall in Samsung Electronics' Seocho Building on September 12. By Yoo Dong-il eddieyou@
Galaxy Note 8 `Media Day`
Samsung Electronics` Galaxy Note 8, which began pre-order sales on September 8, received a reservation of 650,000 units for 5 days. Also the company has recorded the highest advance sales record in the notebook series.
Samsung Electronics is expected to open the Galaxy Note 8 Media Day at Samsung Multipurpose Hall at Samsung Electronics` Seocho Office on September 12 and predict that the total reservation amount of Galaxy Note 8 will reach 800,000 units. Kim Jin-hae, managing director of Samsung Electronics Korea, stated, "Galaxy Note 8 is scheduled to be sold for 650,000 units in the past five days, and 800,000 units will be sold during the 8-day reservation period. It is double the price compared to Galaxy Note 7 sold for 400,000 units for 13 days.
Galaxy Note 8 received orders of 395,000 units in the last 8 days, which is the first day of reservation sales. On the first day alone, it showed a start to close to the total amount of his previous Galaxy Note 7 orders.
"The initial reaction to the Galaxy Note 8 is encouraging," mentioned Koh Dong-Jin, chief executive officer of Samsung Electronics` wireless business division. "We started to pre-order in over 40 countries around the world."
After apologizing for the fact that the price of Galaxy Note 8 has exceeded 1 million won after IFA 2017, Europe`s largest appliance exhibition, he said, "We made a lot of efforts in Korea. However, it did not get it when we considered the way of calculation and cooperation. We apologize once again for the confusion that we have caused.
At the event, Samsung Electronics said it had prepared plans for the next year. "We are in the roadmap for the Galaxy Note, and we are preparing for next year," said Mr. Koh. "We are now in the process of overcoming some of the problems, so we will release the product when we are able to resolve this problem." As for Samsung Electronics` AI secretary Bixby upgraded, he said, "I think building the ecosystem and collecting developers is the most important thing for Bixby," he said. "We plan to announce Bixby 2.0 at the Samsung Developer Conference in October. And we will talk about the future release schedule."
Samsung Electronics introduced the latest technology such as S Pen applied to Galaxy Note 8, dual camera equipped with world`s first dual optical image stabilization (OIS) technology and 6.3 inch Infiniti display which is the largest in history.
At the same time, Samsung Electronics seemed to be conscious of `iPhone X`, Apple`s 10th anniversary product. "We have a separate roadmap for the notebook series," he explained. "Iris has been preparing for four years, Bixby speech recognition for six years, and waterproof and dustproof technology for a long time." . "We continue to monitor our competitors. However, we think that those who support Note will appreciate Note 8 and expect it to be promoted in other countries," he added.
Apple unveiled a new iPhone, including iPhone X and iPhone 8, at Apple`s Steve Jobs Theater in Cupertino, Calif., Nov. 12 (local time, 2:00 am local time). The iPhone X is the 10th anniversary of the launch of the iPhone, and the expectation is that it will be the most innovative iPhone product, including a 3D (D) face recognition scanner and full display.
Meanwhile, Samsung Electronics will pre-sell Galaxy Note 8 until the 14th, and pre-buyers will be able to open from 15th. Samsung Electronics will show Galaxy Note 8 in three colors in midnight black, deep blue and orchid gray in Korea.
By Kim Ji Young kjy@
[ copyright ⓒ The Digitaltimes ]