Samsung 'Z-SSD' production preview…Competition in fierce market leadership

Park Seul Gee | seul@ | 2017-09-12 11:17:12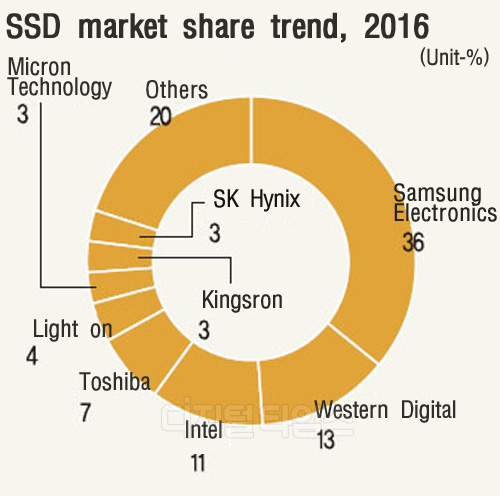 Strategy for securing leadership in the solid-state drive (SSD) market, which is rapidly growing by Samsung Electronics it has been started securing customers ahead of full-scale mass production of the new Z-SSD.
According to the related industry on September 11, Samsung Electronics has developed a next-generation memory semiconductor `Z-NAND` and a controller optimized for it. Samsung Electronics has not revealed its product launch schedule, but the industry is expected to mass-produce it next year.
Z NAND is based on `SLC (single level cell)` which holds 1 bit per cell. However, it has the capacity to be low, but it is characterized by high response speed and low power consumption. The read speed of the ZD-SSD with this NAND is 7 times faster than the conventional SSD.
Meanwhile, Samsung Electronics is preparing for the mass production of Z-SSD, which is analyzed to counter the SSD that applied `3D X-point` jointly developed by Intel and Micron in April. The 3D X point is a type of phase change memory (P-RAM), which has a speed and durability 1,000 times faster than the existing NAND.
As such, SSD technology competition among semiconductor companies is intensifying, and the market is growing rapidly. The global SSD market is expected to grow rapidly by about 10% annually from about USD 20 billion last year to reach USD 30 billion by 2021. SSDs are rapidly replacing existing hard disks. The average selling price for SSDs is expected to fall from USD 0.61 per gigabyte (GB) in 2014 to USD 0.09 in 2021 (GB). Therefore, the replacement rate of SSDs in the data center will increase from 4.1% to 22.9% in the same period.
According to Gartner, Samsung Electronics ranked first in the SSD market with 36 % of the market last year, followed by Western Digital with 13 %, Intel with 11 % and Toshiba with 7 %.
An industry expert said, "SSD market is not only the memory technology but also the securing the controller technology, if we can secure the technology competitiveness of the next generation memory technology and controller."
By Park Seul Gee seul@
[ copyright ⓒ The Digitaltimes ]