Due to rebate…'Illegal agency' with fake name

Kang Eun Seong | esther@ | 2017-09-12 11:13:59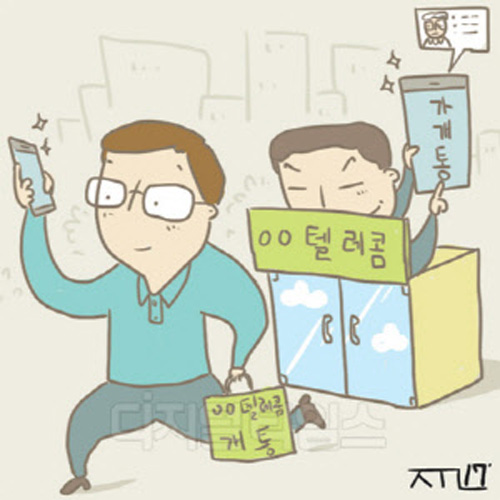 # .30 company worker A has recently been surfing the internet and was informed about the m-safer service, a mobile phone identity theft prevention service. He would like to check it out as it is a free service provided by a reputable organization. A entered his personal information and confirmed the history of cellular phone opening. In addition to his current mobile phone, A found that there was an unknown number that opened in December 2014. This number has been maintained to this day. Besides, A`s behavior patterns, which are similar to those of ordinary users, have been replaced by cell phones every two years. In the past three years, there have been more than a dozen cell phone openings and cancellation histories. A once said that the number had been canceled immediately. However, the fact that a new mobile phone that he did not know was opened and closed has been used for crime, whether or not the opened mobile phone charge has been overdue for several years and his credit rating has fallen and he felt uncomfortable and uneasy.
It has been revealed that cases of unauthorized use of user names for the purpose of taking rebates etc. from mobile phone dealers or dealers have been continuing. The government ordered the introduction of the "ID scanner" in December last year, but damage cases are still happening.
According to the mobile phone distribution industry and KAIT, the majority of complaints filed by KAIT are complaints related to identity theft. A KAIT official said, "The majority of civil complaints that are addressed through user complaints or national newspapers are related to identity theft." In December last year, after institutionalizing the introduction of ID card scanners to mobile phone distribution centers to prevent identity theft, But I still think that some online stores are using illegal or illegal copy of ID cards. "
A typical example of unlawful use of subscriber names by agents or retailers is to take away short-term so called 'rebates' from mobile carrier headquarters. An agency employee who asked for anonymity said, "When the `policy` (the term of subsidy or rebate payment) comes down from the head office, it usually takes about a week or so to shorten a day or even a few hours."We have secured a lot of rebates in a way that `mobile phones` are used to make mobile phones, and we use them even after the policy ends."
This is absolutely illegal. If you misuse your personal information, you will be punished by imprisonment for up to five years or a fine of up to KRW 50 million under the Information and Communications Network Act. However, there are not many instances where such impersonation has resulted in actual punishment at the distribution site.
KAIT representative said, "Since introducing the ID scanner last year, the problem of identity theft has been solved more systematically, and the illegal and illegal operation of the site has been reduced." "We will upgrade and respond more precisely."
KAIT also plans to advance the operation of its ID card scanner operating system. We are currently bidding on delivery of the system. As the system improves, it plans to link ID scanner information with telecom companies and extract accurate statistical data to further raise the level of prevention of identity theft.
By Kang Eun Seong esther@
[ copyright ⓒ The Digitaltimes ]