HP battery recalls implementation in 1.9%… 'Independent recall' with its weakness
[ Kang He Ryung strong@ ] | 2018-05-15 10:38:47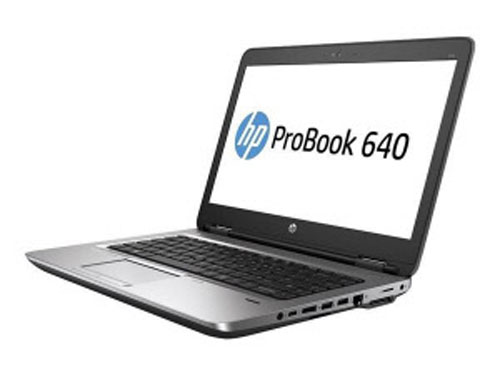 HP ProBook 640 G2 with recalled battery revealed by HP this January. Photo by HP
[Digital Times, Kang He-ryung] HP Korea voluntarily recalled two notebook PC battery defects in 2016 and 2017. However, the recall rate was only 1.9% in both cases. 2 of the 100 were not recalled.
It was a serious fault that the battery could overheat and cause a fire. However, the authorities stated that there was no legal basis for imposing sanctions even if the company did not recall it because it had voluntarily recalled it.
It is now pointed out that even after selling defective products that can cause serious damage to consumers, it is necessary to compensate for the systematic loopholes that can avoid sanctions if they voluntarily recall them.
According to a report submitted by the Seoul Metropolitan Government on May 14, the Korean recall rate for HP notebook PCs voluntarily recalled to 1.9 % in 2016 and 2017, respectively.
HP, in June 2016, said it recalled that batteries used in notebook PCs such as Compaq, ProBook, Envy, Compaq Presario, and Pavilion were in danger of fire due to excessive heat.
The number of products to be recalled was 41,000 globally and about 2200 in Korea. However, only about 43 cars were recalled in Korea.
In January 2017, HP mentioned that it would voluntarily recall about 100,000 units globally and about 700 domestic units due to the same defects. It was a notebook sold from March 2013 to October 2016. However, only about 14 products were recalled.
In January of this year, HP said it would recall 50,000 notebook PCs sold worldwide from December 2015 to December last year for the same reason. The company has been voluntarily recalling battery fatal risk flaws annually, but we have been neglected in actual recalls.
An expert of Seoul Metropolitan City said, "The recall rate is too low, so I asked HP Korea. Most of the products to be recalled are for office use. It is argued that the consumer does not get the recall because the product is replaced when the regular office cycle is reached.
HP Korea did not actively announce the recall to consumers. It was not easy to find a popup window or a guide to guide the recall. We only have a small recall corner at the bottom of the homepage.
The Korean government is also bracketing about the low recall rate. It is difficult to apply sanctions because HP has voluntarily recalled it. An official from the National Institute of Standards and Technology said, "Although we are encouraged to make the recall actively, voluntary recalls made by the company cannot be sanctioned only by the recovery rate."
Meanwhile, Kang Jung-hwa, chairman of the Korea Consumers` Federation, said, "Voluntary recalls are a system for companies to prevent consumer complaints before they actively recall, but they lack awareness of the company. We need to monitor them adequately, and if there is a problem, we need to take measures to compensate. "I contacted HP Korea PR manager. However they did not respond.
On the other hand, HP Korea has been recalling battery recalls for three consecutive years from 2009 to 2011. But it has been pointed out that recall is less than 6%.
By Kang He Ryung strong@
[ copyright ⓒ The Digitaltimes ]