Hard price increase due to sluggish sales… Hyundai Motors in concern by steel tax imposed by Trump
[ Kim Yang Hyuk mj@ ] | 2018-03-13 10:04:03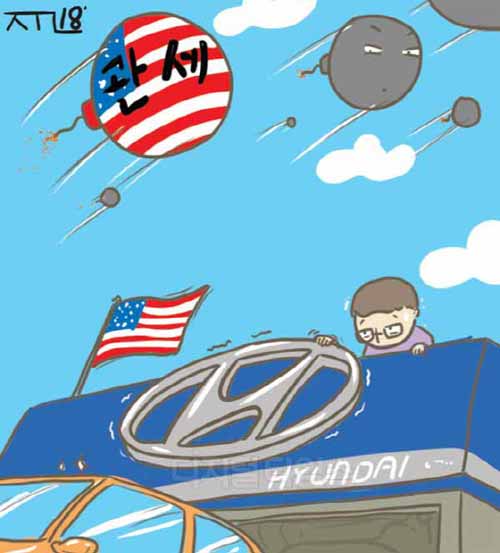 US President Donald Trump`s import duties on steel imports are likely to worsen as Hyundai Motors.
Even if actual tariffs become reality, Hyundai Motor, which suffered from severe sales last year, will not be able to reflect the rise in raw material prices for steel prices.
According to foreign ministers such as Bloomberg, Hyundai Motor recently checked its local factories to check the production of US factories.
This is a follow-up to President Trump`s move to import high tariffs on imported steel.
Earlier, President Trump announced that he would pay a 25 % tariff on imported steel, including Korean steel.
US General Motors and Ford in addition to Hyundai, as well as other automakers such as Honda, have conducted internal inspections in response to President Trump`s imposition of tariffs.
More than 90% of American automakers are hitting from local steelmakers, so it is expected that the impact will be minimal.
The problem is the imported car industry, which has a production plant locally. In fact, Honda announced that steel mills and aluminum will be supplied by local companies at its US factories.
Hyundai has been supplying steel products used for automobile exterior to domestic steel makers such as POSCO and Hyundai Steel.
POSCO has a processing plant in the US, and Hyundai Steel has no local production facility.
Accordingly, Hyundai, which uses steel supplied from domestic companies, cannot escape Trump`s steel tariffs.
If real steel tariffs come true, Hyundai Motor will have to raise its car prices in line with rising raw material prices.
However, it is unlikely that Hyundai Motor, which is currently suffering sales in the US, will be able to raise prices easily.
Hyundai`s US sales last year were 685,555, down 11.5 % from the previous year. Sales in January and February fell by 11.32 % and 13.03 %, respectively, to double the number this year.
In the same period, sales of Genesis grew 12.71% and 13.84%, respectively.
A senior research fellow at Lee Hang-gu Industrial Research Institute said, "Even if steel tariffs are imposed on Hyundai Motor, which is suffering from sluggish sales, it will have to bear the burden of raising vehicle prices.
By Kim Yang Hyuk mj@
[ copyright ⓒ The Digitaltimes ]