Korea, No.1 in shipping order acquisition for two consecutive months…Ship building industry in the floor level?
[ Yang Ji Yun galileo@ ] | 2017-10-12 11:24:26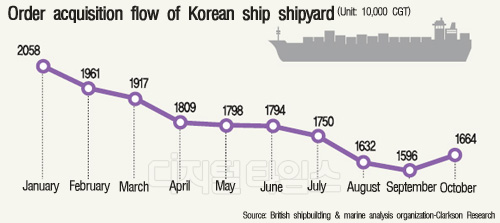 Global shipbuilding orders in September have been the largest on a monthly basis, drawing attention to the recovery of the shipbuilding industry.
The Korean shipbuilding industry took first place in August after September and August, and the order backlog, which means remaining work last month, also increased for the first time in 23 months. The Korean shipbuilding industry showed a positive attitude toward the increase in shipbuilding orders, but was cautious about the assessment that the shipbuilding industry bottomed out. We believe that uncertainties in the shipping industry have not been resolved.
According to Clarkson Research, a British shipbuilding and marine analyst firm, global shipbuilding orders reached 2.96 million CGT (71 ships) in September. Monthly order volume is the largest this year.
Among them, Korea received 1.46 million CGTs, ranking first with 49.2% of the total orders. Last month, domestic shipyards completed a total of 26 vessels, including 11 super large containerships (six Samsung Heavy Industries and five Daewoo Shipbuilding), ten super large ore carriers (VLOC) (Hyundai Heavy Industries) and five super large crude oil carriers (VLCC) I got a ship contract for Chuck followed by China with 890,000 CGT (21) and Japan with 260,000 CGT (12).
Meanwhile, in the first nine months of this year, China ranked first with 2.59 million CGT (217). Korea was followed by 504,000 CGT (133). Japan had 1.47 million CGT (76), showing a big gap with Korea and China.
As of the end of September, the world`s order backlog climbed to 75.11 million CGT, climbing by 52 million CGT from 7.459 million CGT at the end of August. The global order backlog increased 22 months from November 2015.
Korea`s order backlog in September was also 16.65 million CGT, up by 690,000 CGT from the end of August. Domestic shipbuilders` business sentiment has increased more than 23 months since October 2015, when the shipbuilding industry began to slump. The order backlog by country is China 25.9 million CGT, Korea 16.65 million CGT, and Japan 1608 million CGT. The number of newborns in September remained at 124 points since August. The price of major vessels also remained the same as the previous month.
The Korean shipbuilding industry has a positive outlook for orders received in September, but it is too early to see signs of the market escaping from bottom. It is unclear whether it will be able to continue to receive work from shipping companies that ordered ultra-large containerships and ultra-large ore carriers last month.
An industry expert said, "Although there were some shipbuilders` orders for shipbuilding last month, we are not sure if this should be viewed as an overall trend." If ship owners are showing signs of an upturn, ship owners should actively take orders. All of them are waiting. "
Another industry expert stated, "It is positive that the order volume, domestic shipbuilding order increase, and the drop in ship prices have stopped. However, even if the number of jobs increased this year due to the order cliffs last year, the next year result will not rise."
By Yang Ji Yun galileo@
[ copyright ⓒ The Digitaltimes ]